This was our first December (in a long, long time) we were able to soak in the Christmas cheer and not stress about the end of semester and finals the entire month. It was such a treat.
I took a few trips into the city by myself while Joel worked late nights, gearing up for busy season.
Rockefeller Center
Columbus Circle Christmas market
Upper East Side
Metropolitan Museum of Art
We also enjoyed some Connecticut charm at the Ridgefield Holiday Stroll. My cousin Liz invited us and we brought our friends, the Jensens along. Their cute little baby, Tillie, stole the show. She is one adorable baby.
Joel and I took a walk down 5th Avenue to see the windows and buildings decorated for Christmas.
My favorite was Harry Winston.
We finished off the night at Rockefeller Center. That tree is stunning in person. So many lights!
And the night before we planned to ice skate in the city, this poor guy broke his finger playing football. There's always next year!
When we got back from California we were invited to spend New Year's Eve with our friends, the McMullins in Times Square. We watched the celebration from the 18th floor of an office building. It was the perfect way to experience New Year's Eve in Times Square--spectacular view, good friends, food and heating! It was a New Year's Eve we will always remember.
We seriously sat on heaters while those poor people outside froze to death
We could hear all of the entertainers and the coolest one had to be Psy and MC Hammer. Not many people know this, but I am in love with MC Hammer. I freaked out a little when he came on stage. The whole crowd sang and danced along--it was an awesome sight.
Confetti filled the air when the ball dropped. It was snowing confetti! I grabbed a few pieces on our way out as my souvenir.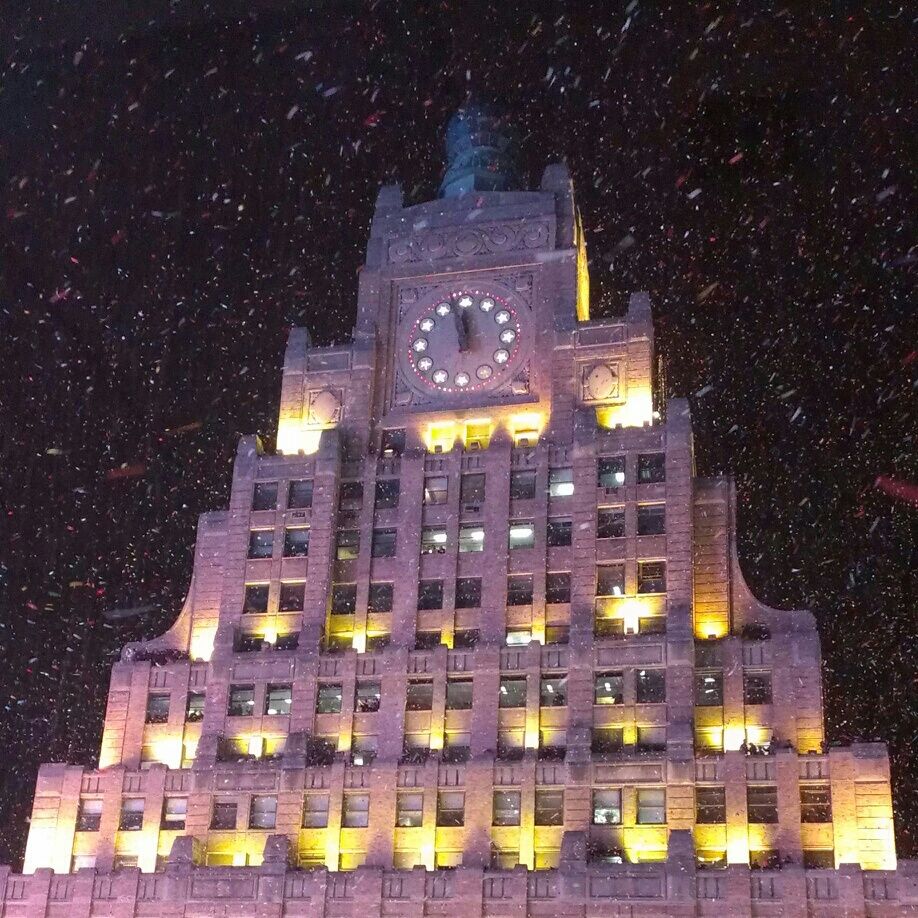 The original Times Square clock
All in all, we had our best December yet. And we hope you did, too.
Merry Christmas and a happy New Year!